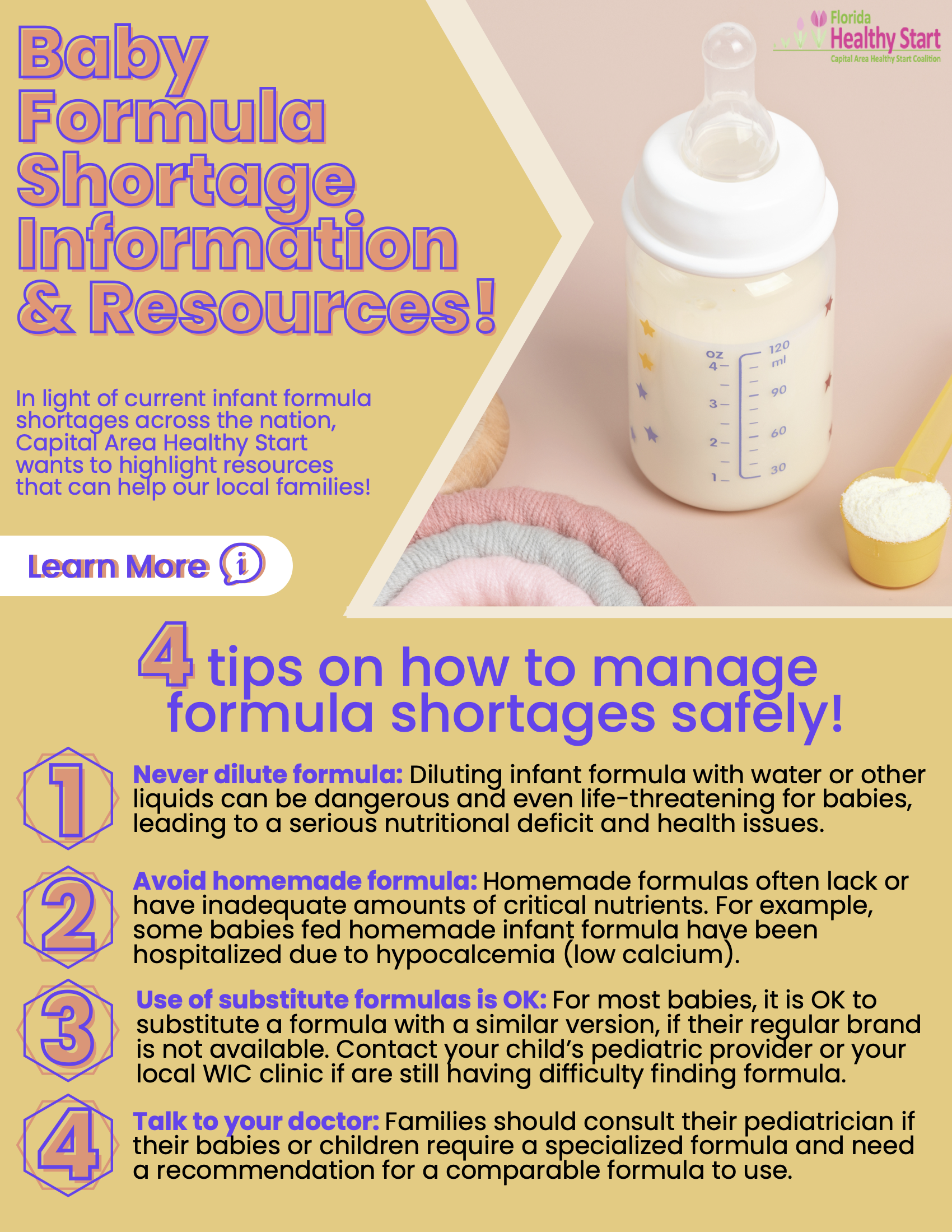 In the face of the ongoing nationwide shortage of baby formula, the Florida Association of Healthy Start Coalitions and its members are sharing guidance and resources to families struggling to keep their babies healthy. Locally, Capital Area Healthy Start Coalition is actively working with partners to identify options for parents in Leon and Wakulla counties. 
"Our local families are feeling the impact of the formula shortage," said Chris Szorcsik, executive director of Capital Area Healthy Start Coalition. "While the shortages may not be as severe as what other areas are experiencing, we know this is a challenging, scary and uncertain time for many." 

Recent reports indicate that 43% of the nation's baby formula products are currently out-of-stock. Capital Area Healthy Start Coalition recommends the following safety tips: 

Never dilute formula. Diluting infant formula with water or other liquids can be dangerous and even life-threatening for babies, leading to a serious nutritional deficit and health issues

Avoid homemade formula.

Homemade formulas often lack or have inadequate amounts of critical nutrients. For example, some babies fed homemade infant formula have been hospitalized due to hypocalcemia (low calcium).



Use of substitute formulas is OK. For most babies, it is okay to substitute a formula with a similar version, if their regular brand is not available.

Talk to your doctor. Families should consult their pediatrician if their babies or children require a specialized formula and need a recommendation for a comparable formula to use.
The following resources are available for families in the Capital area:
Second Harvest of Big Bend
Phone: 850-562-3033
4446 Entrepot Boulevard, Tallahassee, FL 32310
ECHO
https://echotlh.org/
Phone: (850) 224-ECHO (3246)
548 East Bradford Road, Tallahassee, FL 32303
MotherHOOD of the 850 Facebook Group
https://www.facebook.com/groups/527797170923970
5,700 members helping moms struggling to find baby formula
WIC
Leon: 872 W Orange Avenue, Tallahassee, FL 32310
(850) 606-8300
Wakulla: 48 Oak Street, Crawfordville, FL 32327
(850) 926-0400
Good News Outreach
Phone: 850-412-0016
548 E Bradford Road, Tallahassee, FL 32303
https://www.goodnewsoutreach.org/
Capital Area Healthy Start Coalition recommends contacting these organizations as they are either accepting donations or have formula available. 
For additional information about best practices, parents can find dependable, verified information at the American Academy of Pediatrics website, or contact Capital Area Healthy Start at (850) 488-0288.